This week, my fellow planner girls and I are talking about our latest stationery purchases! Now, me personally, I have been trying so hard not to add to my ever increasing stash until I use some of it up, and I have been trying to stick to a no spend in order to save up for 2 fantastic events that are coming up – Pamper & Plan and Scot-Con 2017.  However, I am a stationery addict and there was really no way that I was not going to be able to avoid all of the stationery! So, without further ado, here are some of my most recent purchases.
Dear Lizzy Journal
I first saw this Dear Lizzy Journal when the lovely Michelle (UglyBugPlans) did a quick flip through when she picked it up in the sale. I fell in love with it and she was kind enough to go back to Hobbycraft and pick me one up as well, even although she was nearly lynched by a crazy lady for buying up all the journals (but that's another story)! I love it because it has a prompt for each week and I definitely need a bit of direction, but it still has room for creativity too!
Mini Happy Planners
So, we all know that I am a Happy Planner girl, right? I already have a mini, a classic and a big one. However, I hadn't started my mini yet because I was in two minds about what to use it for – a work planner or a journal? I did not want to choose wrong, so the only thing to do was to buy another one, right? So I picked up the 2017 'Big City Brights' version to serve as a journal. I also 'accidentally' purchased a mini fitness planner too!
Pretty Paperclips
It is no secret that I am a sucker for a shaped paperclip! However, I actually do have an excuse for these little heart shaped clips! I bought these to use as props when I photograph my Valentine's stock for Scarlet Moon Crafts. I buy my paperclips from The Lovely Desk on Etsy.
Paper Pads
The last thing that I need in my life right now is more paper, but I have been after the Dear Lizzy 'Documentary' pad for a very long time. I am talking at least 6 months or more! It has been pretty hard to get here in the UK and call me cheap, but I do not relish the thought of paying £10-15 for a 6×6 pad! However, I recently spotted it on Craftelier for just £3 in their January sale so obviously I had to give in and buy myself one! I have to be honest, I mainly want this pad for the days of the week paper, but the rest are very cute too!
While I was there, I also spotted a really cute Valentine's themed paper pad and again, even although I really do not need any more paper I was unable to resist the lure of such a bargain! This one is the American Crafts XOXO pad and it was also  £3.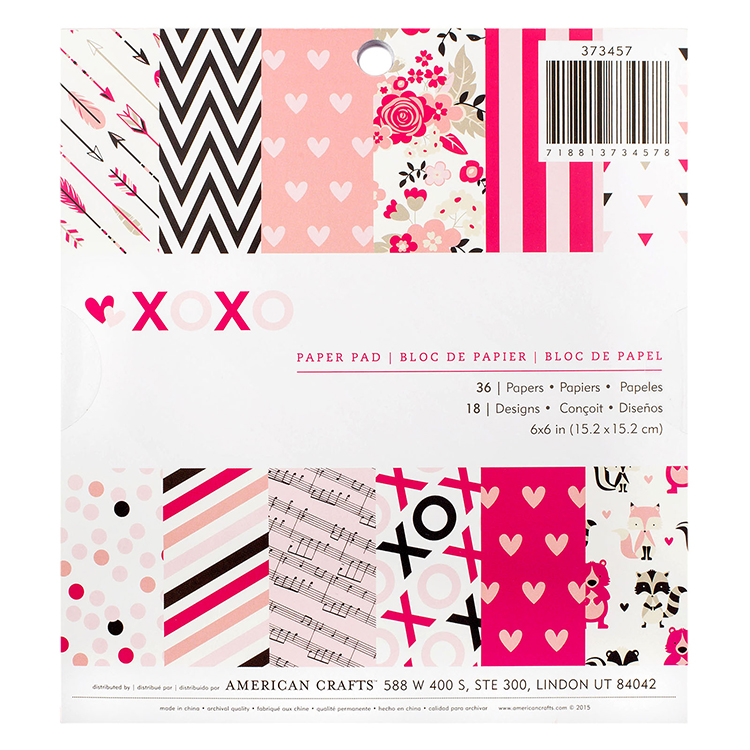 So, those are my latest little stationery purchases. I think that I have done fairly well in restricting myself on my purchases! I'd love to hear what your latest purchases and favourites have been!
Don't forget to stop by and see what the rest of the Planner Girls Collective bloggers have been spending their money on this month!